Over the last few weeks I have played the first four games in the Uncharted Series, been to Auckland on a school trip, finished reading two books, seen several movies, done normal chores, and planned some of my trip to San Diego Comic Con. Not to mention looked after my nieces and done the whole work thing – who knew teaching was so difficult.
Anyway, I thought I would update with a currently. It's just a quick way of sharing what I've been reading, watching, playing etc.
Playing: Uncharted Collection and Uncharted 4. I really don't know why I didn't play this earlier because I am a huge fan of The Last of Us which is by Naughty Dog – the same company that made the Uncharted series. My favourite of the four games has to be Uncharted 2: Among Thieves but the graphics in 4 are beautiful. The premise is you play as Nathan Drake, a thief and treasure hunter. Think Indiana Jones but happy to use a gun or two. The thing I most enjoyed about the games was the history and the scenery. Playing these games has reignited my passion for history which is fun. Plus, Nolan North, who voices Nathan, makes the character that much more likeable.
Each of the games follows Nathan as he attempts to find a legendary place – El Dorado, Iram of the Pillars, pirate treasure, etc.
If you love adventure games I would highly recommend all of these games and I think I'm going to have to get Uncharted The Lost Legacy as well.
Reading: I'm currently reading The Cabin at the End of the World by Paul Tremblay. It follows a young girl named Wen and her two dad's who are victims of a home invasion but not everything is as it seems.
I enjoyed Tremblay's Headful of Ghosts which was eerie and a well written ghost story.
Watching: I watched Detective Pikachu last night and it was delightfully charming. I took my nieces and they loved it. And I'm going to watch John Wick Chapter 3 tonight so have rushed through the first two as I hadn't seen them before.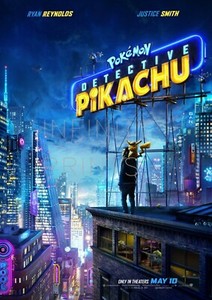 I also finished watching the second season of The Chilling Adventures of Sabrina which is a full watch. It's something that you can't take too seriously and is a lot of fun. Plus, the costumes and witty banter is always fun.
Doing: I've bought a new blank notebook in an attempt to do some more drawing. I've been out of the loop when it comes to being creative in that sense so I want to try to get back into it – so pinterest has been my best friend while I try to find my inspiration.
So that's my quick summary of what I've been up to. Let me know of any games or books that I should add to my to do list.
Peace and pancakes,
Jaime